Carrie Moffett
Though she's originally from the Midwest, Carrie has lived on the East Coast most of her adult life. She fell in love with the beauty of BHI the exact moment she stepped onto the Island. She is committed to protecting not only the Island's rich history and architectural integrity but also that special something that makes BHI, well BHI.

In her past, Carrie has been a full-time stay-at-home mom, a school-based mentor, a non-profit executive, a federal employee, a political appointee, a freelance writer and a professional communications consultant. She lives in Brunswick County just outside of Southport with her young daughter, Lila, and her rescued cats and dog. Her son, Brady, is a rising senior at the University of South Carolina in Columbia. Carrie is a long-time movie buff, avid reader and grateful beachgoer. Most weekends she can be found doing something outside.
Karen Mosteller
Karen Mosteller lives in Southport. She graduated from East Tennessee State University with a degree in communications. She spent her early professional years in the video/media industry filming documentaries for television. She then moved on to become a real estate professional and home restoration professional. All these talents come together to support her as the Architectural Review Coordinator. She loves boating, dogs good food and great wine.
Diane Mesaris
An island resident since 1999, Diane has a passion for gardening, butterflies and hummingbirds. Reading and singing along with Broadway musical scores are two of her favorite past times along with serving the community as a volunteer first responder with the BHI Department of Public Safety. Working at the BHA has provided an opportunity to come in contact with property owners and visitors and provide information about the island.
Teagan Perry Hall
Bald Head Association welcomes Teagan Perry Hall to the position of BHA ARC Associate and Covenants Compliance Agent. Teagan will help Karen Mosteller, ARC Coordinator, facilitate ARC meetings, minutes and response letters; assist with paint colors, plans and other customer service requests from property owners and stakeholders; and work with Carrie and the BHA Board on Covenants compliance. In her spare time, Teagan has the daunting task of continuing the digital archiving of 30+ years of house plans for both Bald Head Association and the former Stage II Association.

Originally from Florida, Teagan has resided in Brunswick County for the past 13 years. Teagan enjoys the beauty of Bald Head Island and her position as ARC Associate. Teagan and her husband are raising two young daughters. She loves spending time with her family and friends. She also enjoys being involved in her community.
Pam Henson
Pam Henson is the Communications Associate at Bald Head Association. She handles BHA communications, including the monthly Island Report, website and social media. Her previous venture was publishing YC Magazine, a monthly, 72-page magazine in York County, SC. She believes that strong, small businesses build robust, sustainable communities and worked to create long-lasting community partnerships. Pam has been visiting Bald Head Island since the late 1990s and is passionate about nature and the outdoors. She is also an animal lover, a runner, a disc golfer, an amateur astronomer, and a quadcopter flier. Community is very important to Pam, and she looks forward to meeting BHA members to ensure the highest standards of effective communications.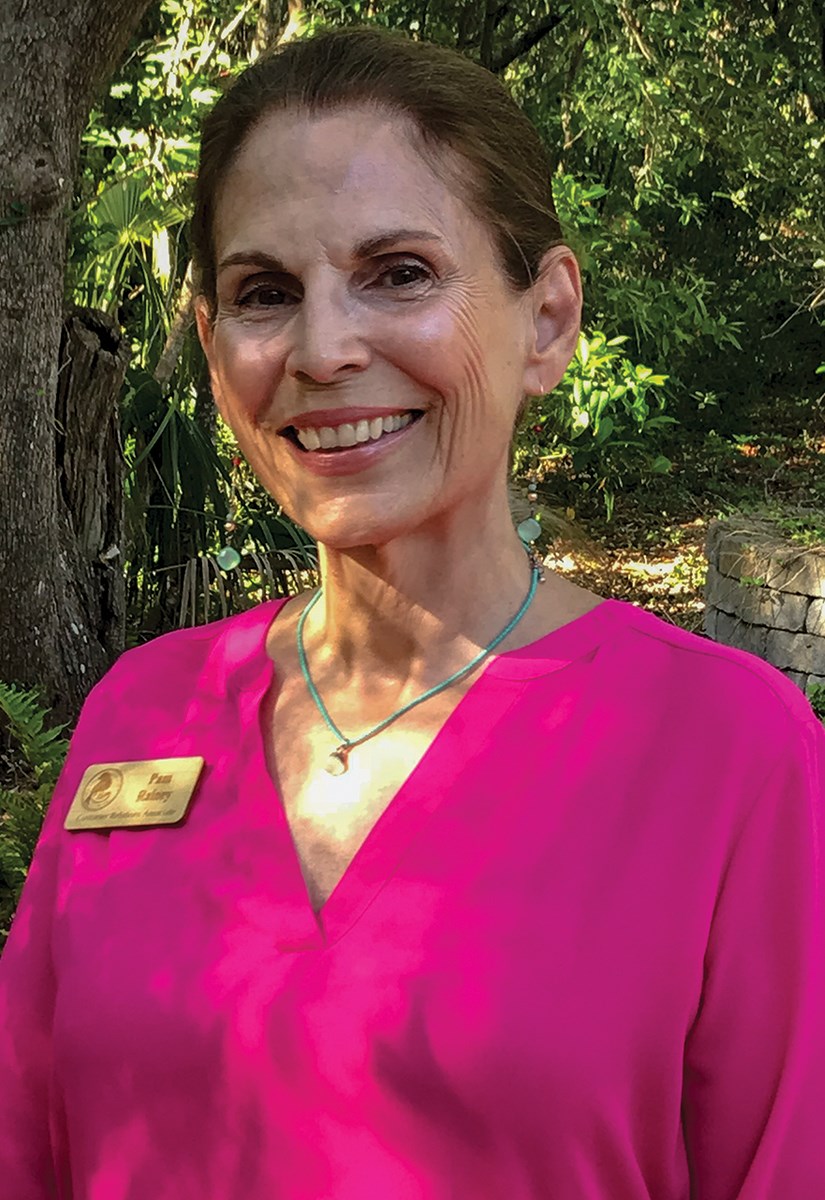 Pam Rainey
Pam Rainey is the new Customer Relations Associate for Bald Head Association. After a long career in the tech industry in Research Triangle Park, Pam finally made her way to the coast, where she currently lives in Southport. Having lived in 10 different states and Canada throughout her career, she knows just how special life on the coast is. Pam graduated from Western Washington University with a degree in Human Resources. With an additional 15 years of experience as a real estate broker, she looks forward to using that knowledge to help property owners on BHI.
Bookkeeper
Denise Eidal is the new Full Charge Bookkeeper for Bald Head Association (BHA). She comes to BHA with over 20 years of accounting experience. A native of southern California, she moved to Southport in 2017 to enjoy a more relaxed style of living. Denise's hobbies include cooking and traveling. Working on Bald Head Island gives her the opportunity to discover everything the Island has to offer.